About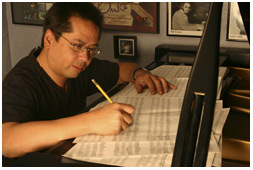 "Outside of the barrage of nightclub gigs and casuals that most cats do while they're coming up, my first real gig came the summer after I graduated from high school. We played four consecutive sold-out shows at Madison Square Garden with Luther Vandross, Chic and Larry Graham. Since the opening moment of that first show, there has really never been any doubt as to what I wanted to do with the rest of my life..." -Jeffrey Chin

Jeffrey has been playing piano since the age of six, when he began his formal musical training in classical piano under the tutlelage of Julia McCaslin and Samuel Rodetsky. During that time, he won numerous scholarships and awards, performing regularly in many open competitions and recitals. After eight years of private lessons, his interests began to blossom; he branched out and taught himself to play many other styles and types of music, including what would eventually turn out to be his passion...jazz. Jeffrey currently owns and runs his own recording studio, production company, music publishing company and independent record label (the latter two with his long-time friend and business partner, Steve Creason).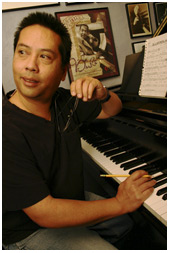 Past touring, recording and performance credits and clients include: Sylvester and the Two Tons Of Fun, Bill Summers and Summers' Heat, Lenny Williams (Tower of Power), Tremaine Hawkins, Chris Issak, Teddy Pendergrass, Little Milton, Ray Charles, Whoopi Goldberg, Danny Glover, Dolly Parton, Don Johnson, Everett Chambers, Orrin Keepnews, Malo (w/ Jorge Santana), Second Wind, Attitude (w/ David Brown and Mike Carabello of Santana), Little Anthony and the Imperials, Los Mocosos, DubAddxx, Columbia Artists ("Love, Janis"), Oracle, Adobe, Netscape, Microsoft, Nintendo, Sega, KRON, KTVU, KQED, KMEL, Casio, TCI, the San Francisco 49ers, BMW, Filmworks, Inc., San Francisco Fire Department, Anubis Entertainment, the Oakland Raiders, the Oakland Atheletics, San Francisco Symphony, Sinocast, Oakland Chinatown Chamber of Commerce, Pacific Music Camp, NAACP and the San Francisco Department of Parks & Recreation.

Armed with an array of keyboards and synthesizers or with nothing more than an acoustic piano, Jeffrey is available for your recording sessions, tours and live performances. He is also available as an accompanist, with or without his "acoustic" and "electric" ensembles. With a penchant to grow both musically and artistically, he is always seeking opportunities to produce, write and arrange for both established as well as new up-and-coming artists. And with a growing interest in corporate and industrial work, he always remains open to collaborations with filmmakers and directors to score original soundtracks in the film/motion-picture and commercial industry. Demo reel(s) available upon request.

When in town and not recording, Jeffrey performs live at various venues with his ensembles as well as with various artists, fellow musicians and friends in the greater San Francisco Bay Area. If you'd like to be on his mailing list to find out where you can come out and see him perform publically, feel free to sign up using the form directly below.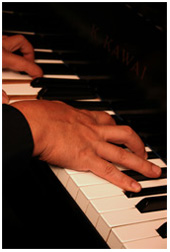 Among Jeffrey's production and arrangement credits is a 12-song jazz HDCD (which was written up in Billboard Magazine, July 2001) for vocalist Shane Kelly, recorded at Fantasy Records (Berkeley, CA) and Studio 880 (Oakland, CA). You can click here for the full list of credits and more information about the recording. The CD is available for purchase at CD Baby.com and Amazon.com.

Another CD that Jeffrey recently produced, arranged and played all keyboards on is "Journey Into The 14th Hour", released in October 2004. A compilation of original material by native Bay Area songwriter/singer Anna Maria Flechero, this CD is in the adult contemporary-smooth jazz genre and features some of his friends and fellow musicians, including Billy Johnson (drums), Ron Belcher (bass), Tim Landis (guitars), Ron Smith (guitar), Melecio Magdaluyo (sax, flute), Charles McNeal (sax), John Santos (percussion), Rafael Ramirez (percussion), Jeanie Tracy (vocals), Margo Leduc (vocals), Tony Lindsay (vocals) and others. "There's something here for everyone...elements of swing, bossa, samba, R&B and more." Jeffrey further states, "These are songs about love, hope, trust and many other issues that we all deal with on a day to day basis". He sends out a very special thanks to recording engineer extraordinaire Gary Mankin, mastering engineer Steve Hall @ Futuredisc, Alexis Paris @ Alexycon Studios, Randy Rood @ Emeryville Recording Company and to all his friends and fine musicians without whom he could not have made this recording. This CD is also available at CD Baby.com.
Last year, Jeffrey produced and arranged "Entelechy", a 10-song CD featuring all-original material by upcoming local Bay Area singer/songwriter Justin McKee. Featuring Billy Johnson (drums), Uriah Duffy (bass), Tim Landis (acoustic guitars, electric guitar leads), Aaron Arabian (McKee's friend since pre-school on rhythm electric guitar), this debut recording of ten original songs showcases the 19-year old Mckee's (songwriter, vocals and piano) virtuosity as well as creativity. Kudus again go out to engineer Gary Mankin @ Knob & Tube and Steve Hall @ Futuredisc Systems for yet another one! Released in March 2005, you can click here to preview some of the cuts or here to purchase the CD.
In May 2006, Jeffrey completed an original soundtrack (55+ minutes of music) for the mystery "Cassandra's Echo", an independent film both shot and set in current day San Francisco. It was composed, arranged, recorded and produced right here at Honu Recording. The film recently made its premier at the 2006 FAIF Film Festival, held at Mann's Chinese Theater in Hollywood, CA. Click here to listen to samples from the soundtrack, and look for an official release date of November 12th for the movie on DVD. You can purchase your copy by visiting the official "Cassandra's Echo" website by clicking here.
Starting July 7th thru November 5th, you can catch Jeffrey perfoming in Columbia Artist's San Francisco production of "Love, Janis" at the Marines Memorial Theater, located in the Theater District of downtown San Francisco. The show is a celebration of the life and music of legendary singer/songwriter Janis Joplin. You can click here for more information about the show and to purchase tickets.
In November 2006, Jeffrey will be producing a jazz CD for singer/songwriter Anna Maria Flechero at Fantasy Records and right here at Honu Recording. Besides his acoustic and electric trios, featured artists include Cedar Walton and his trio (Lewis Nash, drums and David Williams, bass) and many others.
Jeffrey is also currently in the studio recording an acoustic trio project, as well as an adult-contemporary/smooth jazz project with his electric ensemble and special guests. Look for multiple release dates in the near future.
And be sure to visit Jeffrey on MySpace.com at http://myspace.com/jeffreychinmusic (jazz and commercial music), or at http://myspace.com/jeffreychinsoundtracks (music for film, television and interactive media).

To hear some excerpts and examples of Jeffrey's work (including the CDs mentioned above), click here.