Acknowledgements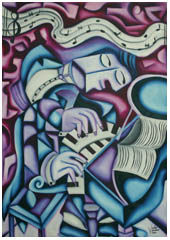 Jeffrey wishes to acknowledge the following people for their encouragement and support in helping him to discover and pursue his musical destiny. This is in chronological order and not necessarily in order of significance:
My Parents - I could write a book filled with stories and fond memories, but there are no words to express the love, respect and gratitude I have for you, and for everything you've done and continue to do for me.
Uncle Bookie - for your unconditional love and most importantly, your teaching me the real meaning of family through your actions. And of course, for the sacrifices you made in order to purchase a brand new Yamaha G1 baby grand for me when it was decided that I would begin piano lessons.
Uncle Warren - for introducing me to my first piano teacher and paying for my first year of lessons.
Julia McCaslin - my first piano teacher, who basically taught me how to play by ear (see below). After a few years of lessons and a decreased rate of improvement, my parents decided I needed a new teacher and being parents, went through painstaking efforts to find the best for their son.
Samuel Rodetsky - my real piano teacher. At my audition to study with him, Mr. Rodetsky pulled out an unfamiliar piece of music any 3rd-year piano student should be able to read and play. Imagine my embarassment discovering that I could barely read the notes, much less play them in time and as written! After a quick crash couse on my obvious weaknesses, I was put on an extremely rigid intermediate (and later, advanced) regimen of many of the classical masters, my favorites (still) being Chopin, Schubert, Beethoven and Mozart. He went the extra mile to first get me up to speed, and after realizing my potential continued to always find ways of motivating me to further my musical development. Samuel K. Rodetsky was born in 1906 in Ukraine, Russia. As a teenager, he immigrated to the United States with his family, settling in San Francisco where he lived for more than 70 years. He became well known as a concert pianist in the states, and during the Depression years when opportunities to perform became limited, he supported himself by teaching piano. After World War II, he decided to give up performing and concentrated fully on his teaching, where many of his students were with him for as many as forty years.
Sensei Richard Kim - Hanshi, 10th Dan (Zen Bei Butoku-kai) for teaching me discipline and respect, and for emphasizing the importance of achieving balance (Yin and Yang) in life and spirtuality, as well as in the martial arts. Some of the most influential words ever spoken to me came from him - "If you can change the way you see the world, the world will be different. This is alot easier than changing the world".
Barbara Wampner - my junior high orchestra teacher. There was no "piano chair" in the music department when I was in junior high, and in order to get into the music department I had to choose an instrument. For what reason, I really don't know but I decided on violin. The three years I spent learning about orchestral stringed instruments and their capabilities (in conjunction with my piano lessons) have proven to be invaluable in developing my arranging skills.
Janet Steele - my junior high choral instructor. Would you believe that my first accompaniment gigs were with the Mixed and Honor Choirs?
George Carter - once again, to qualify for the music program in junior high, I enlisted in the percussion section of the concert band. Needless to say, working in a symphonic percussion section was both challenging and fun.
Carl Meggers - thank goodness there was a piano chair available when I got to high school, where I accompanied the various choirs and choral groups. Some of my most memorable moments were of (choral instructor) Mr. Meggers and I running through a smorgasbord of Rogers & Hammerstein and many other favorites from the great American musicals/theater during free periods. Like any normal teenager, I cut my share of classes in high school, but I could always be found in one of the four piano practice rooms in the music building. It was at this time in my life that I began to explore and teach myself to play other forms of music (I had basically only played classical music up to this point). It wasn't until later that I realized that I was probably never reported for missing those other classes because he saw my situation and wanted me to grow musically, and for that I am truly grateful for the many hours I was allowed to spend in those tiny practice rooms expanding and furthering my musical horizons.
Robert Sheid - my high school concert band instructor. It was here that I was able to further my knowledge of symphonic and other percussion in the concert band, as well as perform on the piano with the "jazz/stage" band.
Kenji Ishibashi - world-class Master piano technician. Thank you for all of your incredible work (especially the new hammers-January 2006!) voicing, tuning, regulating and for the continual maintenance of my instrument.
Bob Schleicher - gentleman and organ-tech extraordinaire. Thanks for taking care of my A-122 and Leslies!
Irja Tannlund - webdesigner, photographer, friend and all-around great person. Thank you for being you!
Kira and Nicholas - my niece and nephew, who are a constant source of inspiration to me!