Carved In Stone Productions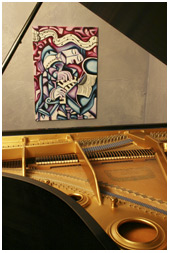 Located just minutes south of San Francisco, Carved In Stone Productions was established in 1993 by Jeffrey Chin to provide for and cater to all your audio, video and multimedia needs into and beyond the new millenium.
We are here to help you see your project through from its inception to completion, and to make sure that the final product reflects and represents both your satisfaction and our high standards. We keep our operating costs as low as possible without sacrificing quality, which allows us to also offer audio solutions at competitive rates to independent artists and filmmakers, songwriters, students and non-label projects.
Besides production services for your projects, other on-site services we provide our clients with include the composition of original scores (we've done film scores, documentaries, soundtracks, jingles, video games, kids' CD-ROMs and all styles and genres of secular & non-secular music) and songs (creating music for your lyrics and/or melodies), basic to complex arrangements (including complete string & horn arrangements and orchestration), complete MIDI sequencing, both analog & digital recording, editing and remix, synthesizer programming, custom sound design and sample editing, and creating a unique and customized musical logo for you, your company, your website or for any specific special occasion or event.
Additional services include graphic design and bulk reproduction, cd mastering and duplication, booking the artists & entertainment for your event , complete backline, sound reinforcement and lighting for any event/venue, custom original artwork for your project and Macintosh/MIDI consultation & troubleshooting. We can also provide you with the Bay Area's finest instrumentalists and vocalists to insure that your recording project, performance or live event realizes its full potential.
Please inquire about our unbeatable prices on full color printing for your business cards, flyers, postcards, posters and more!