Live Event Entertainment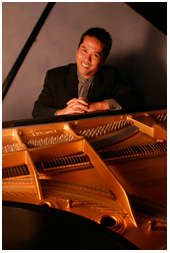 I am available to perform at your venue, event or function as a solo pianist or as a duo, trio or a larger acoustic ensemble.

As a solo pianist, I perform a wide range of material including (but not limited to) jazz standards, pop, Broadway/showtunes, classical music, soft rock, R&B, oldies, blues, smooth jazz, new age and various other forms of ambient background music.

Duos usually consist of piano and bass, piano and horn, piano and guitar, or piano and vocalist. The instrumentation for my "acoustic" trio includes drums, bass and piano. If your event calls for a larger ensemble, a vocalist (or two) and/or additional instrumentation (i.e. guitar, horns, percussion) can be added.

My "electric" band, Global Vision is also available to perform at your event or special occasion. Comprised of friends whose names you've seen on countless major-label and Grammy-winning recordings, we customize every performance to meet and surpass each client's specific needs. Although Global Vision also performs the same material as some of my acoustic ensembles (but with electric instruments), we are definitely more geared towards the high-energy dancing and party crowd. We cover material of all genres from the 30's to present and will work with you to insure that you actually get the music you need to make your event both a successful and memorable one.

To listen to music samples, click here. To inquire about booking please email me by clicking here.