The Studio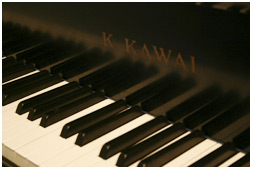 The studio is located on top of a hill just minutes south of San Francisco, California, overlooking both the coast and the city. We are multi-platform, running Mark of the Unicorn's Digital Performer as well as Digidesign ProTools on our MacBook Pro and (2) Macintosh G4 (dual 1gHz) computer systems.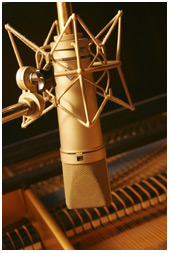 Our extensive array of synthesizers and MIDI gear (routed via a MOTU MidiTimePiece AV) include: Roland JD-800, JD-990 (w/ various expansion cards) and D-50 & D-550(2) w/PG-1000 programmer, Emu EIII & ESI-4000 Turbo(2) w/complete EMU library, Mini-moog Model D, Oberheim OB-8 w/MIDI & Mini-Grand(2), Korg Karma (w/Orchestal Expansion PCM boards) & X5D, Yamaha DX-7, and Fatar 1176 and M-Audio Keystation 88es(secondary controllers).
At the heart of the studio lie the real keyboards:
A 6'8" ebony satin Kawai KG-5C semi-concert grand piano. All aspects of this incredible instrument are in absolutely pristine condition. In 2006, the original hammers were replaced, and the instrument was re-voiced and re-regulated for the most discriminating players' touch and preferences. This KG-5C is one of the warmest, resonant and responsive pianos I'v
A vintage Fender Rhodes Mark l electric piano, completely overhauled by Matt Cunitz of Berkeley, CA.
e had the pleasure of playing, and was therefore the obvious choice for the studio.
A vintage Hammond A-122 organ (A-100 series, same as a B3 except the cabinet) with both a Leslie 122 and a Leslie 145 (converted from a 245). Bob Schleicher of Oakland, CA serviced/overhauled the instrument and installed the two-speed switches in the Leslies. As you know, nothing is comparable to the incredible sound of the legendary Hammond B3 and Leslie 122 combination!
We look forward to being able to use these instruments on your upcoming projects, recordings and demos.
Between these mainstays, our "hardware" synthesizers, our ever-growing collection of softsynth plug-ins (MOTU Mach5, Kontakt and Kompakt, Minimoog V, Pro-53, Arp2600V, Ableton Live, Reason and others) and our vast sample libraries (including EastWest/Quantum Leap, VSL and Garritan Symphonic Orchestras, Spectrasonics, MOTU Symphonic Instrument and many others), having access to any sound you need in order to create immediately is always a reality. Our infinite sample and sound effects libraries cater to and surpass the needs of our most discriminating of clients, as well as cover all genres of the industry's audio requirements and needs.
Mix-down on our active (Event ASP-8) or passive monitor systems (Tannoy PBM8/Yamaha NS-10/Auratone 5C driven by Hafler power amps). Plug-ins include version 5 Waves Gold bundle, Sony Oxford S-Ox Box bundle, URS EQs & Compressors, AutoTune-4, Melodyne and more. We have more than an adequate collection of tube, cardoid, omni, condenser and dynamic mics by Neumann, Sony, Earthworks, AKG, Sennheiser, Shure, EV, Studio Projects, Rode and many others. Outboard gear includes Avalon, Universal Audio, Millenia Media, Lexicon, Sebatron, Empirical Labs and others, Other outboard gear and a wide selection of vintage microphones can be made available through special arrangements. We also have access to the best session players, musicians and vocalists in the greater San Francisco Bay Area to insure that your project is completed to your satisfaction. Hourly, daily and project rates available.